Save time in residential yard waste collection with this reusable, eco-friendly, and flexible Leaf Burrito®.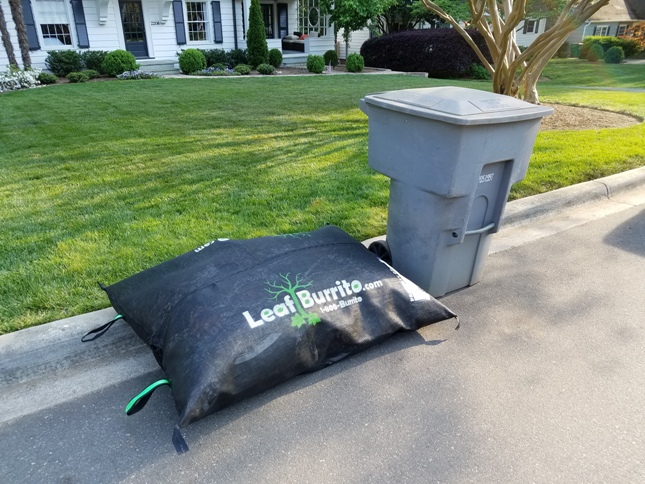 The 5-Foot Leaf Burrito® bag has been designed with curbside servicing in mind. Our goal is to reduce the amount of time your solid waste collection employees spend removing yard debris and reduce plastic waste.
"In Mecklenburg County's current yard-waste composting process, we cannot compost materials with plastic bags. So the plastic bags need to be removed; and the way that has happened has been to use manual labor to physically cut and remove 10's of thousands of non-recyclable plastic film bags out of the 6000 tons of yard-waste that is collected each year. This process is obviously inefficient and time consuming. This new Leaf Burrito product eliminates the plastic bag problem by preventing the plastic bags from ever getting to our facility in the first place. Leaf Burrito is a reusable and sustainable solution, which is in line with our own sustainable goals. We are supporters of the locally invented and developed Leaf Burrito product, and would like to encourage its utilization in lieu of plastic bags for yard waste."
Jeff Smithberger, Director
Mecklenburg County Solid Waste Programs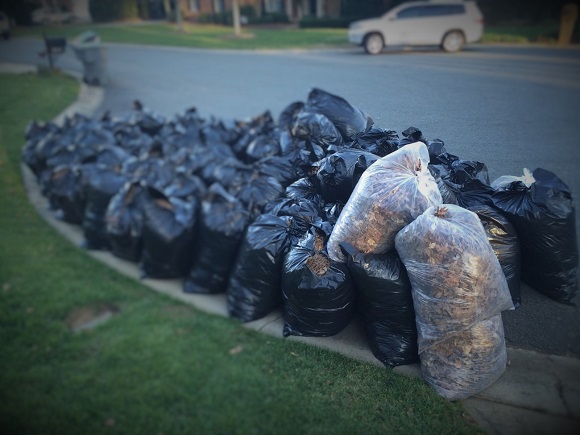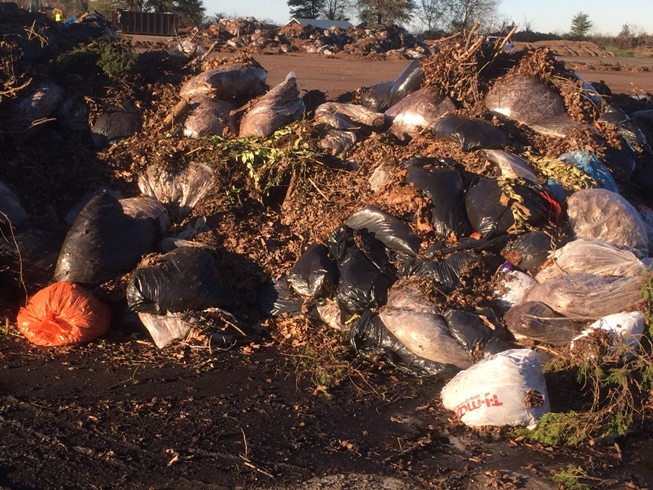 Ridiculous amounts of bags are a very common site during the fall leaf pickup season. Leaf Burrito® will help greatly this problem because it is so easy to keep up with your leaves each week. Most people dread bagging leaves so much that they let it build up to the end of the season and end up with this massive load. The big problem with these types of loads is that it fills up the waste trucks too quickly and forces them to make additional trips to the dump, which delays the collection of other neighbor's leaves, as well as wastes time & money for the city. Leaf Burrito® is so easy to use that it actually makes it fun for you, or your kids, to rake your leaves.

In peak season, the city throws full bags into their trucks to save time versus ripping each bag open and emptying them along the way. Then, giant bricks of debris are dumped from the trucks and crews are hired to crawl through these mountains of garbage to cut open and remove every single bag. This is a horrific job!
The Benefits of the Leaf Burrito® for Solid Waste Collectors:
Reduces effort for citizens in yard maintenance; which would help to encourage compliance.
Universalizes yard waste into one Receptacle; which would aid in expediting the pickup process.
Limits the amount of debris that can be placed into the bag, thus limiting capacity.
Reduces the impact of yard debris on storm drains.
Eliminates single use plastic bags at collection sites.
Decreases the amount of time spent at each pick up over a route.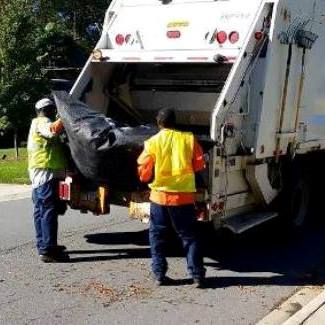 Contact us to find out how you can get your crews trained today on servicing the Leaf Burrito®.
Municipal Gallery: Click on any image below to view full images in our gallery.